Prenatal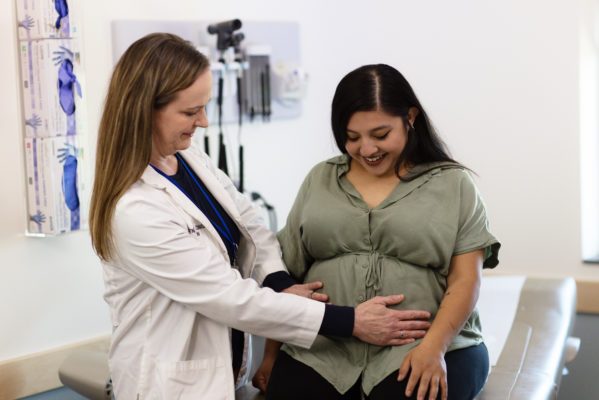 OneWorld's Prenatal team provides compassionate, respectful prenatal care based on trusting connections. Our midwives, OB-GYNs and family medicine clinicians at our Women's Health Clinic are dedicated to providing high quality, pregnancy, birth and postpartum care that is comfortable and safe. No matter your needs, our team of experts is here for you.
Care Options
You can choose who you want to care for you during your pregnancy based on where you want to deliver your baby.
OneWorld midwives, OB-GYNs and family medicine physicians deliver babies at Bergan Mercy Hospital and offer:
Bilingual clinicians
Continuity of care
Labor support
OneWorld's Group Prenatal Program, a support program with other prenatal patients
Creighton Obstetrics residents deliver babies at Bergan Mercy Hospital and offer:
Continuity with resident physicians
Obstetrics care for more complex, higher-risk patients
OneWorld/University of Nebraska Medical Center Family Practice residents deliver babies at the University of Nebraska Medical Center and offer:
Bilingual clinicals
Continuity of care clinicians at OneWorld
Tubal ligation
After you give birth, a OneWorld pediatrician will visit you in the hospital and assist you with your upcoming transitions as you adjust to life with a newborn.
Behavioral Health
Parents of OneWorld pediatric patients have access to counselors for parenting advice or problems with depression, anxiety or stress after the arrival of a new baby. Our team is here to support you.
Emergency
Our clinicians are available by phone 24 hours a day.
Call us at (402) 734-4110 if you have any of the following symptoms while pregnant:
An intense headache accompanied by blurred vision that does not go away with two regular-strength Tylenol
Any abnormal discharge from your vagina
Chills or fever (temperature above 100.4° Fahrenheit)
Pain or burning with urination
Sharp, severe cramping or abdominal pain that occurs every 10 minutes or more frequently and lasts longer than one hour
Vaginal bleeding
Vomiting that lasts more than 24 hours and if you are unable to keep food or water down
You think your water broke (a gush of water from your vagina)
Prenatal Exams
During your first prenatal appointment, your clinician will perform a head-toe physical exam with a pap smear and testing for sexually transmitted infections. Test results from any previous visits will also be reviewed.
At every prenatal visit you will be asked to provide a urine sample to test for the presence of proteins, glucose or signs of a urinary tract infection. OneWorld health assistants will check your blood pressure and weight.
During your appointment, your clinician will ask you questions related to your pregnancy, measure the size of your uterus and listen to your baby's heartbeat with you. They will review prenatal danger signs and answer any questions you may have about your pregnancy or upcoming delivery.
15-18 weeks – Quad screen (optional test for genetic defects)
24-28 weeks – An ultrasound will be performed to confirm the gestational age of the pregnancy and to insure your baby is healthy
25-28 weeks – One-hour glucose test (for gestational diabetes)
35-37 weeks – Group beta streptococcus (vaginal swab test)
Your clinician or nurse midwife may sometimes order additional tests such as blood type, CBC (for anemia and infection), rubella, varicella, hepatitis B, syphilis, HIV or urine culture.
OneWorld clinicians customize care based on your specific needs and will adjust your appointments as needed.
You will likely see your clinician:
Every 4 weeks until 28 weeks gestation
Every 2 weeks from 28-36 weeks gestation
Every week from 36 weeks until birth