Building a healthy foundation
OneWorld expands pediatric dental services with new Minecraft-inspired clinic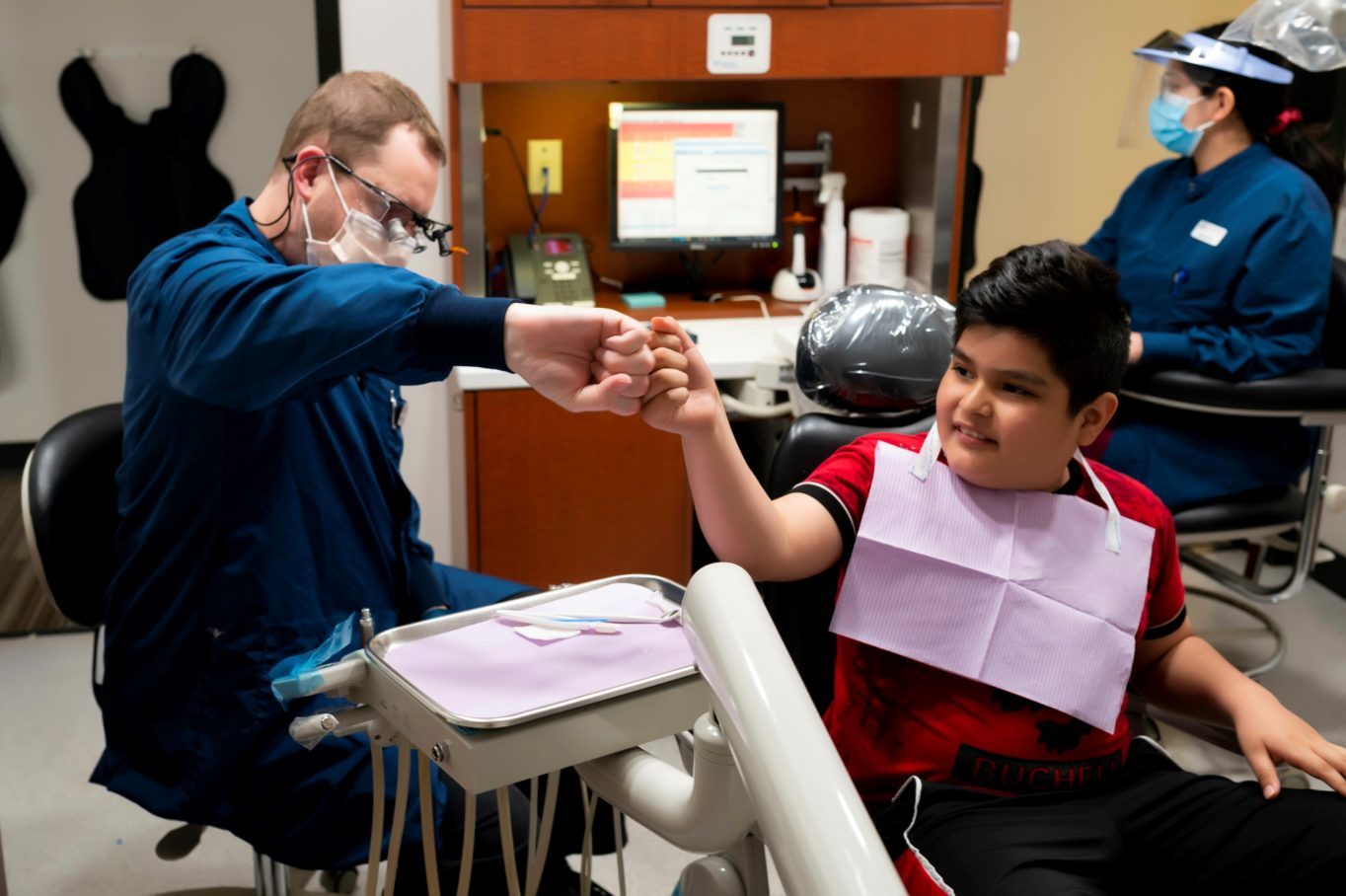 By age five, nearly 60% of children have tooth decay. By age 17, that number jumps to nearly 80%, according to the American Academy of Pediatric Dentistry. OneWorld's new pediatric dental clinic was built to challenge these statistics and help children in the Omaha metro community receive the dental care they need.
"We are focusing in pediatrics in this clinic because kids can't really fend for themselves," said Dr. Penly, Dental Director. "They are where they are at through no fault of their own, but because of the situation they were born into, and oftentimes the lack of education the community has in relation to oral health. Our goal is to reduce those barriers as much as we possibly can."
The new clinic, located on 84th and Q streets, is exclusively for pediatric dental patients, ages 0-19. The clinic features four exam rooms, four procedure rooms, an imaging room and a consultation room.
Complete with elements of Minecraft, a popular video game, the clinic engages children and adolescents from the moment they walk through the door, helping to reduce anxiety and make going to the dentist a more enjoyable and comfortable experience.
Patients will be seen for cleanings, fillings, crowns, extractions, and preventative services such as sealants, fluoride and space maintenance.
"Pediatrics is about prevention and education," said Dr. Penly. "We emphasize these elements of care with parents because they enforce their child's diet and hygiene."
Dr. Spencer Burton, Associate Director of Pediatric Dental Services, will serve as the lead dentist at the new clinic.
"As a pediatric dentist, my job is to help kids improve their oral health through education and treatment," said Dr. Burton. "If we can establish good hygiene and nutritional habits in childhood and adolescence that will go a long way to solving many of the oral health problems of adulthood."
Through a partnership with Children's Hospital, Dr. Burton also completes dental treatment under general anesthesia at Children's Outpatient Surgical Center at Village Pointe for children with extensive treatment needs, special health care needs or behavioral needs that prevent the safe delivery of dental care in a traditional clinic setting.
Combined with expertise, a comfortable environment, and expanded services, the new OneWorld pediatric dental clinic is a step in the right direction to helping children in the Omaha community access high quality dental care.
"We believe this clinic will really help our pediatric population become more knowledgeable and involved in their own oral health," said Dr. Penly. "Access to this high quality care will not only set each patient up for a healthier future, but our community as a whole."
OneWorld Pediatric Dental Clinic Address and Phone Number:
5310 South 84th Street
Omaha, NE 68127
(402) 296-2353
Get to know Dr. Burton
Dr. Spencer Burton received his bachelor's degree in biology from the University of Utah in 2003. He attended Creighton University's School of Dentistry, earning his doctor of dental surgery degree in 2007.
Prior to working at OneWorld, Dr. Burton worked in a private practice in Arizona and for the Indian Health Service. He also provided dental care for members of the Navajo Nation at the Tsehootsooi Medical Center.
Dr. Burton started at OneWorld in 2012, serving as the Dental Director from 2013-2015. After practicing general dentistry for 12 years, Dr. Burton entered the Pediatric Dental Residency at the University of Nebraska Medical Center, earning his certificate in 2021.