Honoring the life of a remarkable midwife
New OneWorld fund goes towards car seats, centering pregnancy and midwife wellness
Corrie Shattenkirk loved the miracle of bringing babies into the world, especially during her time working as a midwife at OneWorld. Now, her professional legacy will live on through the OneWorld mission.
Originally from New York, Corrie began her midwifery career in Omaha at OneWorld, where she provided comprehensive midwifery care and trained in centering pregnancy, a unique model of care that focuses on building a community for pregnant patients through group checkups and education. This communal aspect for expectant mothers allows them to support one another throughout their pregnancy and gives them better access to their providers, education about their bodies and a circle of support in pregnancy and postpartum care.
Corrie was passionate about centering pregnancy and providing exceptional care to all patients. Her intuition and demeanor with patients assured them they were truly seen, and heard, and had an unwavering advocate. Corrie had a talent and drive for overcoming cultural barriers to give the best care, frequently using her fluent Spanish language skills to inform and empower her patients.
OneWorld remained a special part of Corrie's heart throughout her 10 years as a midwife, even after she returned to New York to work, as it symbolized the roots of her career and her passion for caring for underrepresented groups.
Throughout her life, Corrie helped many patients, friends and family members with their pregnancy journeys.
"She was naturally gifted, intelligent and exuded warmth and calmness," said Katie, Corrie's sister-in-law. "We wouldn't have been able to get through our pregnancy had it not been for Corrie."
"Corrie was my biggest source of support during my pregnancy," shared Corrie's friend, Kate. "She was so kind, attentive and reassuring. Having her be there for me during that time will be one of my most cherished memories of her. I can only imagine how many lives she impacted in a similar way in her career."
After Corrie passed away in June 2023, Corrie's friends and family knew that they wanted to continue her legacy through OneWorld's mission. To honor Corrie and the impact she left on so many lives, they created a fund in Corrie's memory for OneWorld.
Donations to Corrie's Memorial Fund will provide car seats for families in need, go towards the OneWorld Centering Program, and provide the OneWorld Women's Health team clinicians with wellness support. The fund is ongoing, and donations to the fund can be made in dedication to Corrie Shattenkirk through the OneWorld website.
In October, Corrie's family and friends came to Omaha to join OneWorld staff, including CEO Andrea Skolkin, to dedicate the centering pregnancy room, affectionately named "Corrie's Room," or "La Sala de Corrie."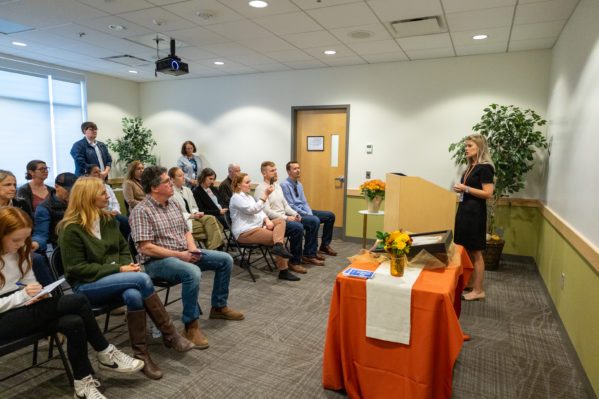 When you ask what OneWorld meant to Corrie, the faces of her family, friends and former coworkers immediately light up.
"Corrie had a permanent smile on her face, and she brought a gentleness that none of us could match," said Courtney Allen Cowardin, CNM, OneWorld Midwife. "Our patients were lucky to get that one-of-a-kind care from her."
"Corrie saw the inherent value of the centering program," added Darla, Corrie's mother. "She was so proud and excited to be a part of the program and help build community for her patients whom she cared for so deeply."
As part of the dedication, Corrie's family presented OneWorld with a shadow box displaying her original white midwife coat.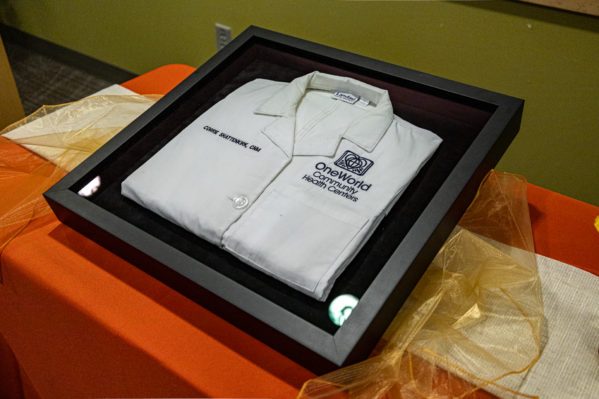 "Being at OneWorld was deeply moving," said Kristen, Corrie's friend. "It was humbling to see the impact Corrie has firsthand. We could feel her with us throughout the day."
As part of the visit, Corrie's family and friends volunteered with the OneWorld Social Supports team.
"Volunteering allowed us to see how OneWorld is providing culturally competent and holistic care," said Sarah, Corrie's friend. "Being there allowed us to reconnect with what mattered to her."
Now when patients walk into the centering room, they will walk past the dedication plaque displaying Corrie's bright smile, almost as if she is greeting everyone as she did when she practiced at OneWorld.
"Experiencing OneWorld, meeting the midwives and knowing how much this would mean to Corrie feels like coming home. We are all so proud of her," shared Darla.