Never Letting Go
OneWorld triage team use knowledge, instinct and advocacy to care for patient
On May 17, 2021, a new OneWorld patient entered the Quick Sick clinic. She was 28 weeks pregnant, tested positive for Covid-19 and was experiencing shortness of breath, but her vital signs were in the "normal" range.
Because the patient was pregnant, the case management and triage teams called her once a day, including the weekends, to monitor and assess her condition.
The phone calls carried the weight of her health and at times, her life. With no in-person assessment, the team relied solely on the symptoms presented by the patient, medical protocols and their own medical training and knowledge.
When Ivon Aguilar-Silva, BSN, RN, Covid-19 Case Manager and Nurse Lead, called the patient on May 19, the patient had a fever and her oxygen saturation dropped from 99 to 95 percent. Ivon contacted Courtney Allen, CNM, Associate Medical Director of Women's Health, who recommended the patient go to an emergency room to be assessed.
At the time, patients were typically sent to the ER if their oxygen saturation dropped to 90% or below, but because she was pregnant, the 95% saturation was concerning.
"I followed up with her the next day, and she told me she was released the same day she went in because her vital signs were in the normal range," said Ivon. "Over the course of the next few days we sent her to the ER three times. We just kept reminding her that her concerns for her health mattered until she was finally admitted."
Fatima Gonzalez-Espinoza, BSN, RN, Triage Nurse Lead, and Jesy Delgado, Triage Medical Assistant Lead, called the patient several times leading up to her admission into the hospital.
"I remember the patient told me she wanted to get help, but she was worried she wouldn't get help because the ER kept sending her home," said Fatima. "I really had to advocate for her. The patient didn't know a lot of English, and she was very young. You wouldn't think she would be someone who would be so compromised from Covid-19 or get as sick as she did."
Each time the patient went to the ER, a member of the triage team called ahead to emphasize that the patient was steadily declining and needed care.
"A lot of times, our patients' symptoms are sadly downplayed or overlooked because of language barriers and discrimination," said Fatima. "At OneWorld, we provide care to patients who would otherwise not have access to care. We are their voice and we fight for our patients because their health matters."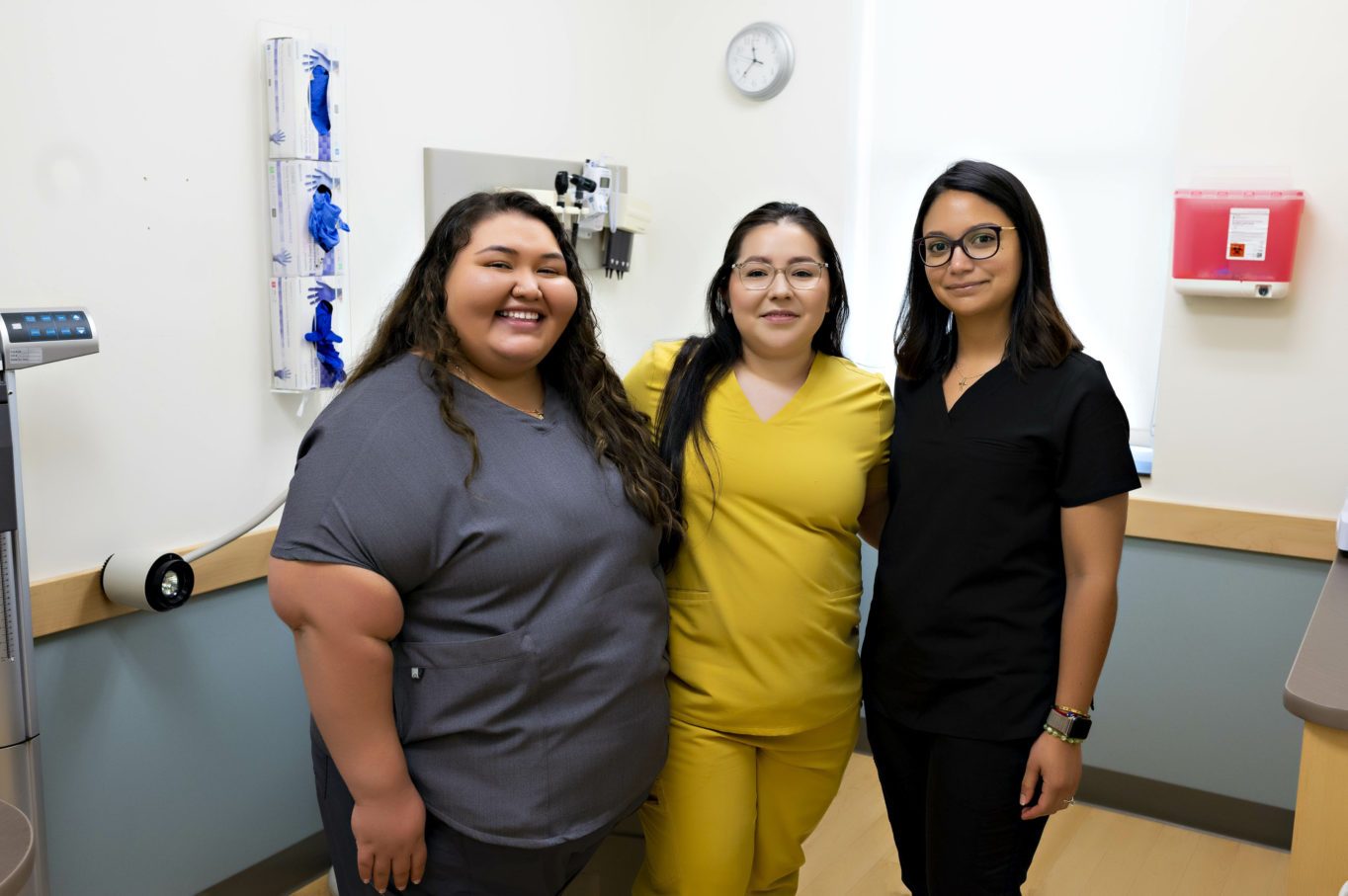 The patient was finally admitted into a hospital on May 23 to be observed overnight. Her condition seemed to improve throughout the night, so the hospital started the discharge process. A few hours later, her oxygen saturation deteriorated quickly and the baby went into distress.
With no other options, the patient was intubated and had an emergency C-section.
"I couldn't imagine what she was going through when I read the case notes," said Ivon. "When we all looked back we couldn't help but think about what could have happened if we didn't call her on a daily basis and advocate for her care in the ER."
Both patient and baby spent time in the Intensive Care Unit and Newborn ICU, but made full recoveries and were discharged from the hospital.
"It was hard because this situation could probably have been prevented, but she didn't receive the care she needed at the hospital, despite our efforts, until the situation became emergent," said Jesy. "However, we are so thankful both mom and baby are safe and alive. It's great to know that we played a big part of the mom being able to successfully have her baby."
Ivon, Fatima and Jesy all agreed that the patient's strength and bravery to continue to go to the ER and advocate for her and her baby's health, despite language barriers and being repeatedly sent home, inspires them to help as many patients as they can.
As a result of this case, OneWorld created a new triage protocol for obstetrics patients with new guidelines and information to help the triage team know what signs and symptoms to look for outside of vitals that indicate an OB patient needs emergency care.
"OneWorld believes in helping those in need," said Jesy. "We grab our patients' hands and don't let them go, and that makes a difference in our community every day."
---