OneWorld Care Mobile – SuperKid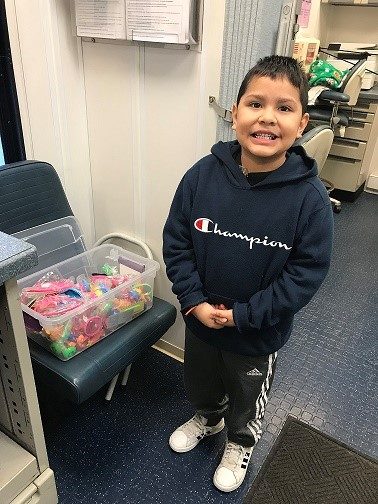 February is National Children's Dental Health Month and OneWorld is bringing two dental care mobile clinics to schools in our community. Dr. Olbrey and Dental Assistant Marisol Carr from OneWorld travel to schools and other community locations to provide dental care to kids who might otherwise go without. Thanks to partnerships with area schools and the support of school nurses, we are seeing a positive impact on young lives in our community.
This is the story of Jesus, SuperKid of the month, a sweet six-year-old boy who came to us in need of help. Jesus told us that his teeth were hurting and that he was having a hard time eating. After performing his examination, it was clear why he was having so much pain.  He had eleven teeth that had cavities!  His mom explained to us that although she has a job she could not afford dental insurance or the treatment that her son needed.
We proceeded to fix every cavity in his mouth. The treatment ranged from fillings to baby root canals and crowns. On his last visit, Jesus told us that his teeth were feeling so much better and that he had no more problems eating. It was great to see Jesus doing so well and the work we did meant so much to his family. Way to go Jesus! You are a SuperKid!
A big Thank You to our OneWorld donors that help keep our mobile dental services going.
---