OneWorld Community Health Centers Ranks Among Top 10% For Best Overall Clinical Performance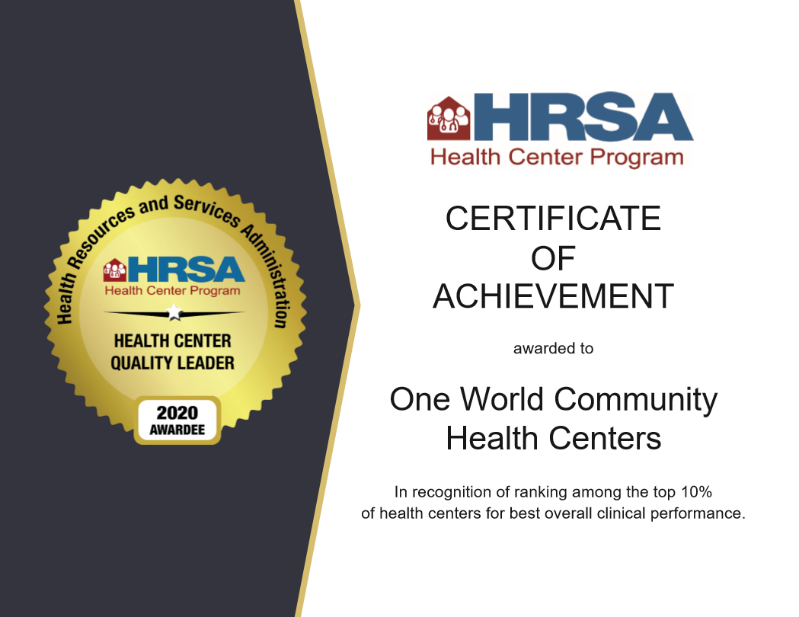 OneWorld Community Health Centers is pleased to announce that the Health Resources and Services Administration (HRSA) recently recognized OneWorld as a Quality Leader. HRSA Health Center Program awarded OneWorld Community Health Centers with a Certificate of Achievement for ranking among the top 10% of all 1400 health centers nation-wide for best overall clinical performance.
"OneWorld is very proud to receive this award from the Health Resources and Service Administration. We believe that everyone should have access to quality health care, regardless of socioeconomic status. We are proud of our phenomenal team of professionals who work to provide quality clinical care and thankful for our donors who help us maintain top of the line medical equipment for our patients." said Andrea Skolkin, Chief Executive Officer of OneWorld.
The Health Resources and Services Administration is an agency of the U.S. Department of Health and Human Services. It is the primary federal agency for improving access to health care services for people who are uninsured, isolated or medically vulnerable.
---