Recipes for gathering
OneWorld dietitian shares favorite nutritious fall recipes
As the time for families and friends gathering for the holidays approaches, so does the time to prepare grocery lists and dinner menus. Niki Kubiak, RD, LMNT, OneWorld Registered Dietitian, has several simple, satisfying and nutritious ideas suited for the fall weather.
Pork tenderloin with blackberry sauce recipe from the Diabetes Forecast magazine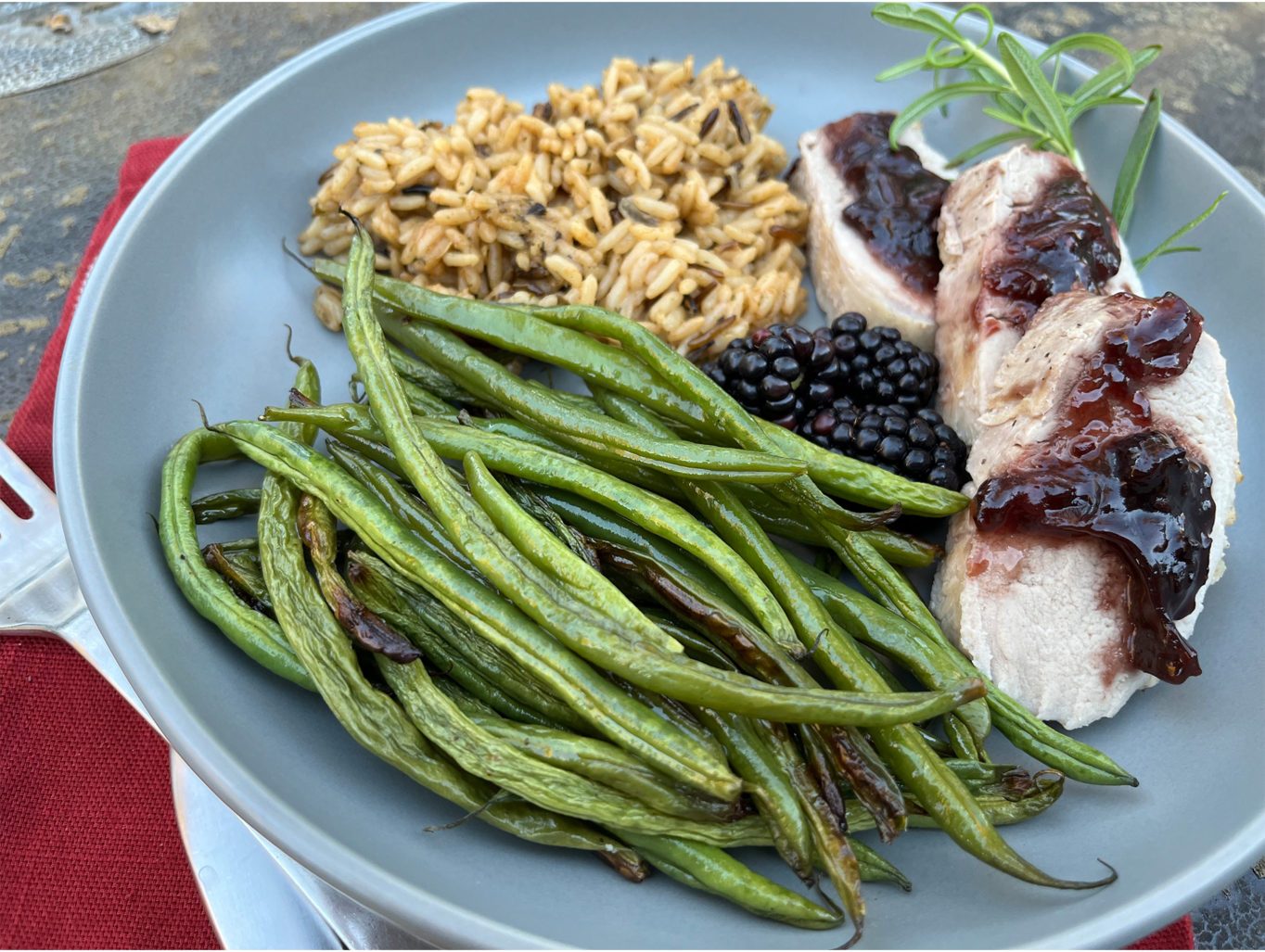 "Over the last five years, some health conditions have developed amongst my family friends, so I choose to make a meal that is modifiable for people with diabetes and who have severe sodium restrictions. I also have a daughter with nut and milk allergies. I made this pork tenderloin the first year I held the dinner. It is very easy to cook, I simply omitted the kosher salt to keep it low in sodium, and the blackberry sauce gives it a beautiful holiday presentation that makes it fancy and makes your company say 'wow.' We had so much fun with this meal!"
Serves 10
Serving Size: 3 oz pork, 1 tbsp sauce
Preparation Time: 15 minutes
Cooking Time: 25 minutes
2 pork tenderloins (1 lb each)
½ tsp kosher salt
½ tsp freshly ground black pepper
1 ½ tbsp olive oil
½ no-sugar-added blackberry preserves
¼ cup low-fat, reduced-sodium chicken broth
1 tbsp red wine vinegar
1 tbsp light soy sauce
1 large shallot, peeled and finely minced
¼ cup dry white wine
Garnish:
2 tbsp freshly minced sage
1 tbsp lemon zest
½ cup fresh or frozen (thawed and drained) blackberries
Instructions:
1. Preheat the oven to 400° F. Line a baking sheet with parchment paper; set aside.
2. Sprinkle the pork tenderloins with salt and pepper. Heat the olive oil in a large skillet over medium-high heat. Add the pork and sear for 5-6 minutes. Turn the pork and sear for an additional 5-6 minutes. Place the pork on the prepared baking sheet and roast for 15-7 minutes, until desired doneness.
3. In a small bowl, combine the preserves, broth, vinegar and soy sauce.
4. Add the shallot and white wine to the skillet and sauté for 3-4 minutes, until the wine is absorbed and you are scraping up the brown bits as you sauté. Add the blackberry sauce to the skillet and simmer on low heat for 1-2 minutes.
5. Slice the cooked pork and place on a platter. Drizzle the pork with the blackberry sauce and garnish with the sage, lemon zest and blackberries.
Tips:
Use a blackberry jam over a preserve to avoid having crunchy seeds in your sauce.
I like to use a Pinot Grigio or Sauvignon white wine. A less sweet white wine helps the shallots really shine through. Shallots have a milder, less pungent flavor than your typical white or yellow onion that balances with the blackberry jam perfectly. I had to make a special grocery store run just to find them, and I am so glad I did.
This pork tenderloin with the sauce included took 40 minutes to fix. I roasted the French green beans for 30 minutes, and used a pouch of ready rice that I microwaved for 90 seconds.
Easiest holiday meal ever!
Cool weather cobbler recipe from the Diabetes Forecast magazine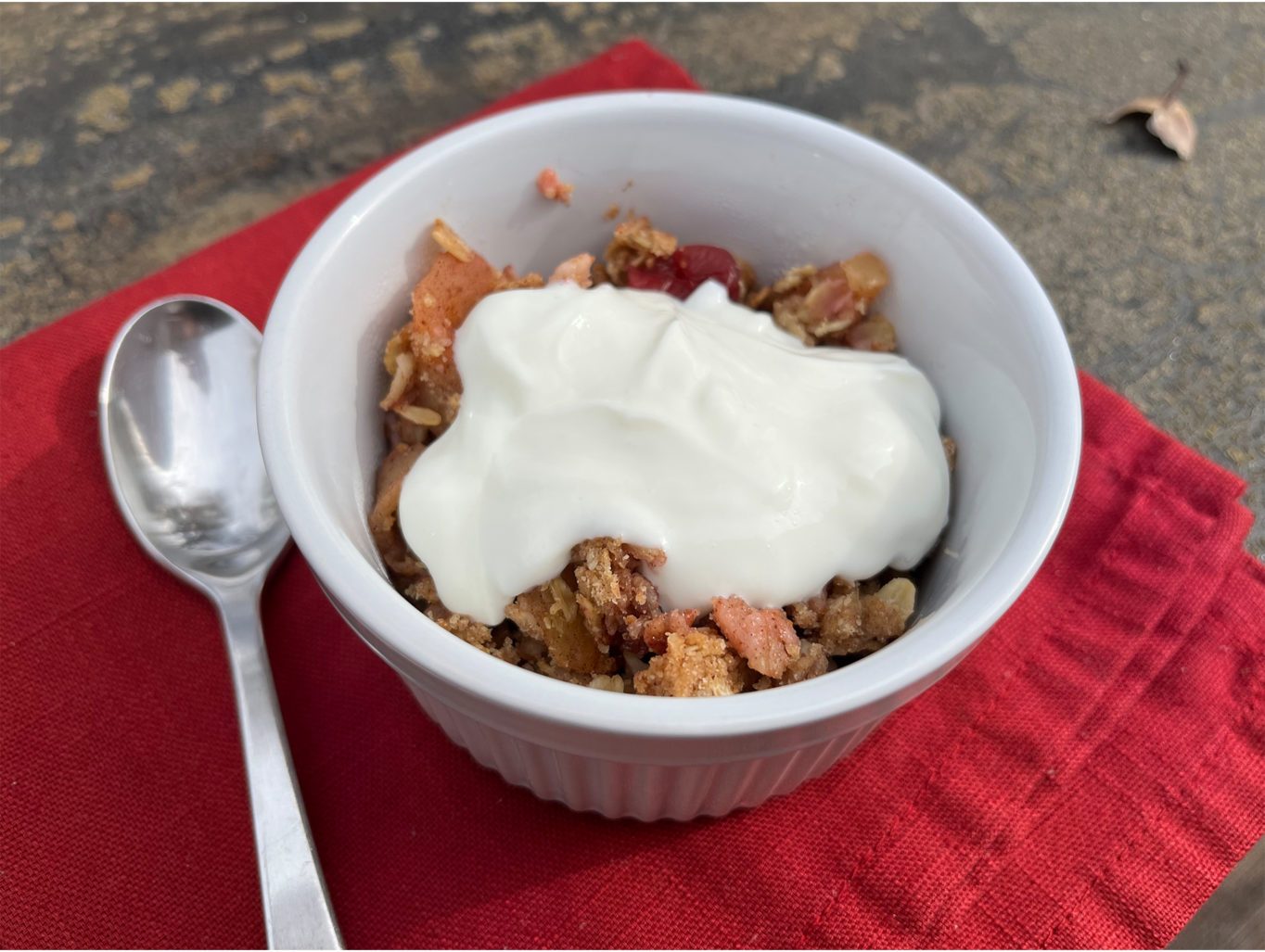 "This one came about on my own because I have an apple tree. For several years, it kept overproducing. I didn't want to waste the apples, but I wanted to find something easier and healthier to make than apple pies. This cobbler features a healthy whole grain topping. It uses almond flour instead of regular flour, a little bit of whole-wheat flour and then oats. The beauty of this topping is that it really gives you a sense of satisfaction and fullness. I can eat a serving and then move on; I'm not going back for more."
Serves 18
Serving Size: ¾ cup
Preparation Time: 20 minutes
Cooking Time: 45 minutes
Ingredients:
Filling:
6 medium pears or apples, peeled, cored and sliced
1 cup fresh or frozen cranberries and/or pitted cherries
1 tsp ground cinnamon
1 tsp grated fresh ginger
1 tsp freshly grated orange zest
Topping:
1 cup almond flour
2 cups gluten-free rolled oats
½ cup whole-wheat flour
¼ cup unsalted, toasted pumpkin seeds
¼ cup raw, unsalted sliced almonds
1 tsp ground cinnamon
¼ tsp fine sea salt
2 tbsp melted coconut oil or canola oil
1 tbsp extra-virgin olive oil
1/3 cup pure maple syrup
Instructions:
1. Preheat the oven to 350° F.
2. To make the filling, toss together all the fruit, cinnamon, ginger and orange zest in a medium bowl. Spread the filling the bottom of an 8×12-inch baking dish.
3. To make the topping, stir together the almond flour, oats, flour, pumpkin seeds, almonds, cinnamon and salt in another medium bowl. Drizzle in the coconut oil, olive oil and maple syrup and mix until evenly combined.
4. Crumble the topping over the filling and bake for 40 minutes, or until the topping is brown and the fruit is bubbling. Remove cobbler from the over and set aside to cool for 10 minutes before serving.
Tips:
I love this cobbler with yogurt for a holiday breakfast. The crumble is very filling and this recipe is low in sugar and calories compared to a more traditional cobbler.
Any OneWorld patient can see a OneWorld Dietitian. Patients must see a OneWorld clinician annually, but no referral is required. To schedule an appointment, call 402-734-4110.
---