Research with a purpose
OneWorld physician uses research to help improve the health of his community
Peter Schindler, MD, Ph.D., Family Medicine Physician, is no stranger to learning. In fact, after 17 years of education post-high school graduation, he is continuing his journey of learning through research.
In addition to his physician role at OneWorld, Dr. Schindler is an assistant professor and the director of medical research within the department of family medicine at University Nebraska Medical Center. Currently, Dr. Schindler is involved in three research studies: HPV self-swab test for cervical cancer, prenatal patient birth experiences and paternal participation and birth outcomes.
"I firmly believe in not doing research just to do research," said Dr. Schindler. "For me the purpose is to improve the health of our community and to make the lives of our community members better."
When asked what interested him in medicine, Dr. Schindler said his journey, while more complicated than the average person, allowed him to explore different avenues of the medical world including nursing, midwifery, nurse practitioner and finally the role of a family medicine physician.
After graduating from Medical College of Wisconsin in 2019, Dr. Schindler and his wife moved to Omaha so Dr. Schindler could complete his family practice residency through the UNMC College of Medicine and his wife, who is also a physician, could begin her career.
"I interviewed at UNMC and they told me about the OneWorld residency program, and that became the big draw to come to Omaha," said Dr. Schindler. "I went to OneWorld and they had everything that I imagined myself needing to train; good support, working with populations that I had some experience working with and staff that really cared. I remember calling my wife after and saying that Omaha was where we needed to go."
Dr. Schindler completed his residency in 2022, and transitioned into his new roles at OneWorld and UNMC. When he is not conducting his own clinical practice at the OneWorld Women's Health Clinic or teaching at UNMC, he can be found on his computer digging into his research projects.
"Research and clinical practice gives me a healthy balance," said Dr. Schindler. "Clinical practice humanizes research for me because I can connect what I am reading about and doing on the computer to my own patients. It makes it much more relevant to see what kind of impact I can potentially have."
Impact is a huge motivator for Dr. Schindler's work with HPV screening for cervical cancer. This project is looking at ways to reduce barriers for cervical cancer screening, one of which is studying the idea of a self-collected HPV specimen.
Dr. Schindler said going to a medical clinic and getting a pap has barriers for many patients, and by incorporating a self-swab test into the health system, these barriers may be eliminated.
Kaiser Permanente has studied this concept previously with positive results, but Dr. Schindler said the participants of their study did not reflect the diverse backgrounds that OneWorld and many other Federally Qualified Health Centers serve. Dr. Schindler, along with Melanie Menning, MD, MPH, Family Medicine Physician, are currently assessing the acceptability of these tests amongst diverse populations.
"It is a skill to be able to do a self-swab well enough to get an adequate sample," said Dr. Schindler. "But before we get to that point, we need to understand if there are any social norms or cultural nuances that different populations may have. We're at the very beginning of a long project, but this has the potential to create a positive, sustainable change for FQHC populations."
The goal for Dr. Schindler's research on prenatal patient birth experiences is to create a formal plan based on patient insights to improve the patient experience. The study will look at the prenatal, delivery and after-
delivery experiences for patients.
"This study will help us understand our strengths and weaknesses from the patient perspective," said Dr. Schindler. "That will allow us to improve the patient experience both at OneWorld and possibly at the hospitals we partner with in a more formal way. We are hoping to have preliminary results and to start implementing those results in about a year."
Rounding out his research, Dr. Schindler and Jacob Vasa, MD, Family Medicine Resident, are studying paternal participation and birth outcomes at OneWorld. They will assess identified data that states if there was paternal participation during pregnancy and then look at associations with different outcomes such as birth weight and premature birth.
"This is a very new area of research, so it's going to take a long time to get anything tangible, such as an intervention to promote a certain form of partner participation, to be seen and practiced," said Dr. Schindler.
Similar to his own clinical practice, Dr. Schindler said he wants the OneWorld patient population to be involved in the research projects.
"I want to hear what our community's perceptions of their health issues are," said Dr. Schindler. "It's so important to have that healthy perspective and understanding so we can bring resources to our community that will bring sustainable change and improve our community's health."
---
OneWorld Family Residency Program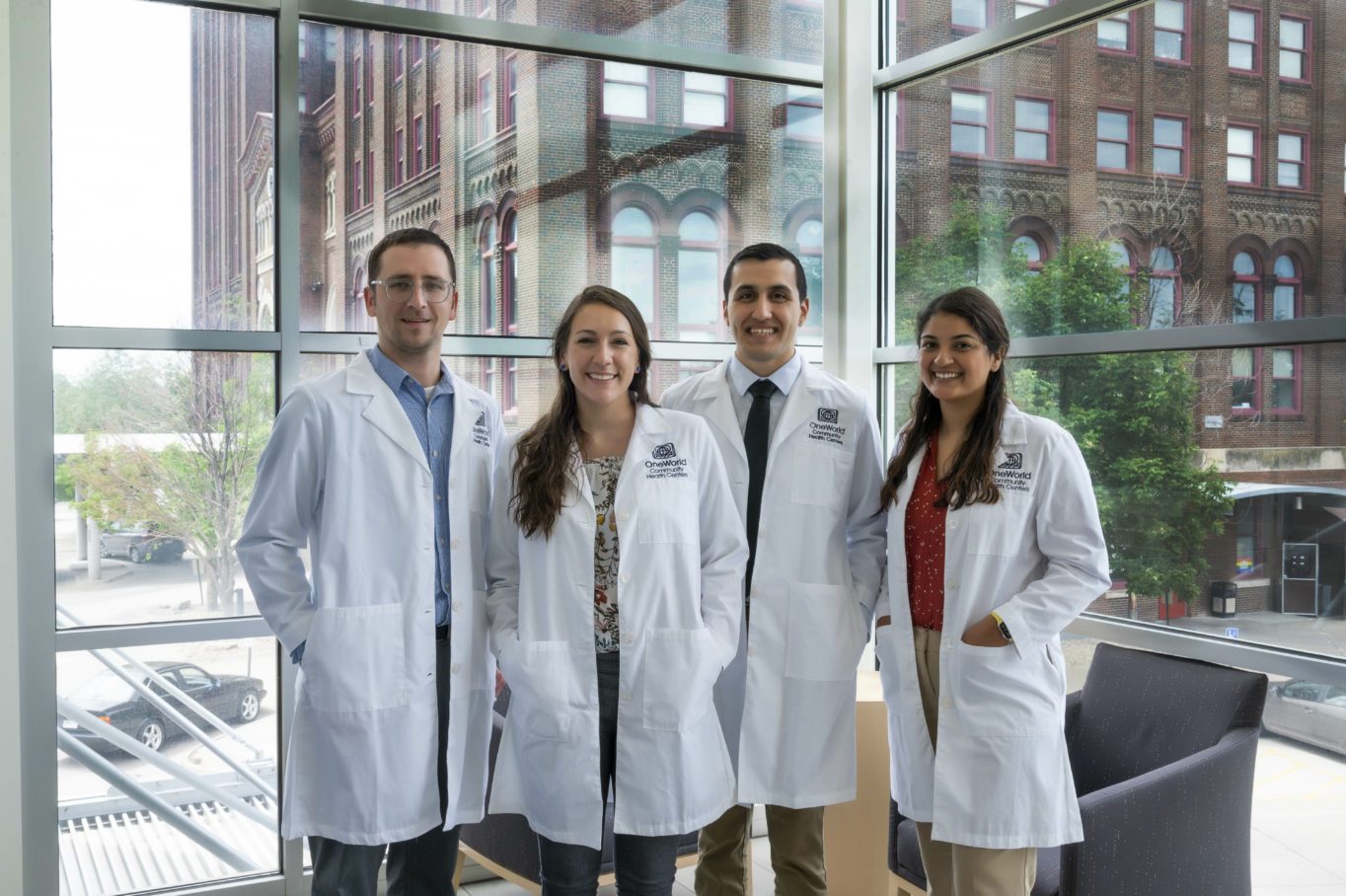 OneWorld's Family Medicine Residency Program is a three-year continuity program, in partnership with UNMC's Community Health Center Residency Track, designed to train physicians to care for a diverse population of patients within the community with an emphasis on health equity and justice.
Residents have the opportunity to gain exposure to an integrative model of health care that focuses on caring for the whole person and practice in different clinical settings including OneWorld's family medicine and pediatrics clinics, School-Based Health Centers and Teen and Young Adult Health Centers.
---