Empowering Independence
Family and Diabetes Educator support help OneWorld patient gain control of diabetes
When Pray began losing weight, feeling extremely tired and isolating himself at home, his family knew something was wrong. Pray is a person with autism and learning disabilities, so his family advocates for him when he is unable to speak for himself.
In addition to the individual barriers Pray faces, he and his family do not speak English and they had little experience with the medical system in the United States. Despite these barriers, Pray's family knew he needed help, so they made an appointment for him at OneWorld Community Health Centers.
With the help of his family and a Karenni interpreter, Melanie Menning, MD, Family Medicine Physician, learned about Pray's symptoms and his personal health history. A blood sugar test confirmed Pray had Type 1 diabetes, a chronic condition in which the pancreas produces little or no insulin.
The blood sugar test revealed that Pray's blood sugar was very high. This meant his diabetes was considered uncontrolled and he was at risk for life-threatening health complications.
Dr. Menning prescribed insulin for Pray and referred him to visit with Daisy Barragan, BSN, RN, CDCES, OneWorld Diabetes Educator.
"I helped Pray and his family learn about diabetes, managing diabetes, treating high blood sugar and insulin," said Daisy. "I also helped coordinate the delivery of insulin and blood sugar testing supplies with a local pharmacy."
About six months after Pray began taking insulin, his A1c (blood sugar average) went from greater than 14 percent to 6.2 percent, meaning his diabetes moved from an uncontrolled level to a controlled level.
"We do blood sugar tests and control his sugar intake by limiting sweets and other things like that to give him extra help at home," said Baw, Pray's sister. "Pray was able to get control of his diabetes very quickly."
When Pray started his insulin treatment, he was uncomfortable with the needles and needed encouragement to take the medication. Baw helped Pray overcome his discomfort and Pray eventually learned to check his blood sugars with his glucometer and inject his insulin independently.
"His family support has played an integral part of his diabetes control," said Daisy. "Baw is very responsive to my weekly check-in calls for insulin titration for Pray. She is always prepared and has Pray's blood sugar log ready to report his results. She asks questions and advocates for him to make sure he has enough insulin and supplies at home."
Daisy also connected Pray and his family to the OneWorld Marketplace to help eliminate financial barriers.
"In addition to providing education in patients' preferred language and learning style, we work with our patients to identify barriers that may be impacting their ability to focus on their diabetes or preventing them from accessing the tools they need to care for their diabetes," said Daisy.
The marketplace team helped Pray switch Medicaid plans and obtain a Continuous Glucose Monitor (CGM) through Medicaid.
This technology uses a sensor to monitor blood sugar levels through the glucose found in the interstitial fluid, the fluid found between cells, eliminating the need to prick the skin with lancets multiple times each day as is required with a glucometer.
CGM can be cost-prohibitive for many OneWorld patients. The OneWorld Diabetes Educators team collaborates with Diabetes Supply Center of the Midlands and other suppliers to help make this technology accessible for more patients.
Pray and his sister continue to meet with Daisy each week and attend regular checkups with Dr. Menning to ensure Pray has the resources and knowledge to help him stay in control of his diabetes.
"We are excited to come to OneWorld," said Baw. "We get the help we need for Pray's health issues, such as medication. From the beginning we've had help, and we're happy to come to OneWorld for our care."
---
OneWorld Diabetes Programs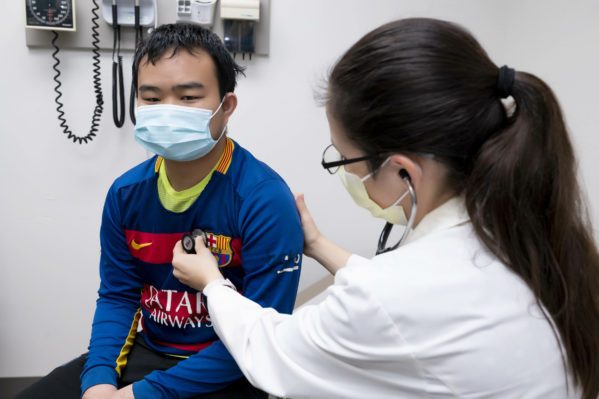 OneWorld offers several programs in multiple languages to support patients with diabetes.
Dominate Diabetes workshops are available for OneWorld patients with Type 1 or Type 2 diabetes. Classes provide an overview on diabetes, important terminology, exercise, nutrition, medication and treatment options, coping skills and goal setting.
The Diabetes Prevention Program, in partnership with the National Hispanic Alliance, is part of the National Diabetes Prevention Program, led by the CDC. This program is designed to help individuals make positive lifestyle changes to prevent Type 2 diabetes. This program is free of charge and is open to the public; participants do not have to be an OneWorld patient.
To learn more visit oneworldomaha.org/patient-information/classes-programs/.
---