A trusted resource for teens
OneWorld expands behavioral health services to Millard South High School
Across the nation, the need for mental health care continues to rapidly increase, especially amongst teenagers. The Centers for Disease Control and Prevention reported that in 2021, 42 percent of high school students felt so sad or hopeless every day for at least two consecutive weeks that they stopped doing their usual activities. The report also indicated that teenage girls are experiencing record high levels of violence, sadness and suicide risk.
To help address this crisis, OneWorld partnered with Millard Public Schools to bring traditional behavioral health therapy to Millard South High School.
"Having a therapist directly in the high school will give teens an avenue and space to speak with a third-party, non-biased individual," said Behavioral Health Director, Kelly Dorfmeyer, MS, LIMHP, LADC, LPC. "We want to support teens and be a trusted resource for them to go to when they are struggling with things like depression, anxiety, social pressure, bullying and more."
The social work team at Millard South identifies students who they believe would benefit from outpatient therapy and reaches out to their parents/guardians. Once consent is granted, the OneWorld Behavioral Health team registers each student as a OneWorld patient and begins scheduling therapy sessions.
Similar to other clinical services, Millard South patients who are uninsured or do not have enough insurance will be connected to the OneWorld Marketplace team to discuss eligibility for insurance, sliding fee scale, Medicaid and other programs.
Each student will be scheduled for 10 sessions initially, but the team will adjust the number of sessions based on each student's goals and progress. Appointments will be available before, during and after school hours to help increase access.
"Having the program in the school helps so therapy isn't an extra thing families have to do on their own," said Dorfmeyer. "It can be overwhelming to know who to call, if insurance is accepted and then scheduling around school and work. With our program being on-site, we can eliminate those access barriers and simplify the process."
Shelley Harder, LIMHP, is the primary behavioral health therapist at Millard South. Harder has experience working with the teenage population and coordinating with schools to address truancy, individualized education programs, mental health and behavioral issues.
"I'm excited to get back to work with teenagers again, especially with everything they've gone through lately with social media constantly growing and the Covid-19 pandemic," said Harder.
Harder said having her office in Millard South will help her provide treatment because she will be able to collaborate with the social work team and school staff to get additional background information and history about each student. She will also be able to measure treatment progress by working with the school.
"I know how important building relationships and trust is with teenagers," said Harder. "They need someone to listen to them who they believe is on their team. I hope by being on-site that my patients will be able to see me as an extension of the school and that they can come see me whenever they need. This is a great way to normalize therapy for teenagers and their parents/guardians."
The Millard South clinic begins OneWorld's traditional behavioral health services, and is also the first OneWorld clinic in the Millard Public Schools system.
"We are excited to reach a new population and expand our behavioral health services," said Dorfmeyer. "Mental health is such an important piece of health care, and this clinic is a step in the right direction to bring access to an age group who is in great need of support."
At OneWorld, We Care for All People.
---
Get to know Shelley Harder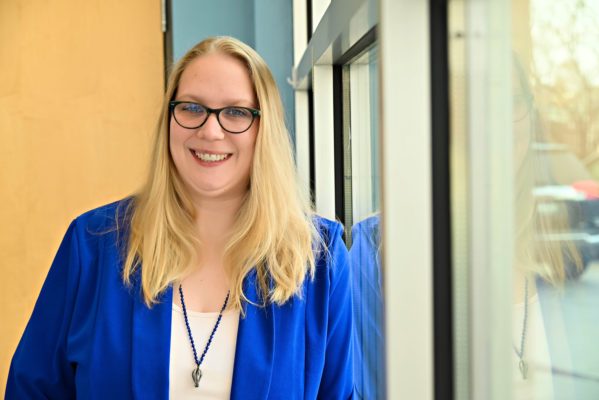 Shelley Harder, LIMHP, earned her bachelor's degree in behavioral science and her master's degree in clinical counseling from Bellevue University. Harder earned her provisional therapy license in 2016, and became fully licensed in 2018.
Harder joined the OneWorld Behavioral Health team in January of 2023. She has over 10 years of experience in the mental health field working to address mental illness, substance use disorders, truancy, self-harm and behavior issues at the individual and family level.
In addition to her formal education, Harder has completed trainings related to motivational interviewing, grief, working with older adults, cognitive impairment, adolescent issues, compassion fatigue and trauma. She is experienced in crisis de-escalation, locating community resources, trauma informed care and multiple forms of psychotherapy.
---